Reinvent Your Business and Save Money in a Post-COVID World
Looking for free credit card processing for your company? Don't just reopen, reinvent.
Payroc has a re-opening solution that will reinvent your business and save you between 60-90% on your payment processing fees. Give your customers the choice of paying some, or all, of the processing fee that your business would normally cover.
Under Payroc's exclusive RewardPay program, if your customer chooses to pay with a credit card, they will also absorb the processing fee. Don't want your customer to take the full processing fee percentage? RewardPay's zero-cost credit card processing is a choice product, which means you choose, AND the customer chooses. If the customer chooses to use their credit card they will absorb some, or all, of the processing fees, depending on how much you'd like to pass off to them. This only applies to credit cards, not debit or prepaid cards.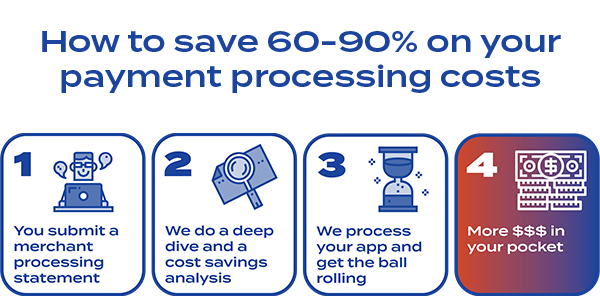 How Much Will You Save?
Payroc's technology will net settle to the business owner's credit card sales daily - in other words, if the business owner's processing fees are 3.5% and they make a $100 sale, the business owner keeps that additional $3.50. For a deeper look, click here to calculate how much your business would save.
With RewardPay, business owners are also eligible for Next Day Funding, at no extra cost, or Same Day Money Express. If you are a B2B (business-to-business) company or a business that deals in higher transactions, RewardPay will dramatically increase your savings. Credit card primary businesses like these will see the most money saved, but RewardPay will save you money no matter what kind of business you run.

Why RewardPay?
Unlike our competitors, Payroc offers you, the business owners, the choice on HOW much of your surcharging percentage you would like to pass on to your customers. For example, if your business has a 4% surcharge fee, you can put 2% of that fee on your customers and absorb the other 2% yourself. Our competitors offer flat rates with no options.
Another key differentiator is that we do not use pin-pad transactions because as soon as the customer inserts or scans their debit card, even if they run it as a credit card, our patented technology will automatically and seamlessly register the card as debit. This puts you and the customer at ease, knowing you are fully compliant and your customer gets to choose whether they pay for surcharging fees or not.
Now Available: RewardPay
We give business owners the option and let them choose what to surcharge their customers. Primarily used for large ticket businesses, Payroc's RewardPay Choice program allows processing fees to be split between the customer and the business (3.5-3.99%). Let's say your business has enabled a 4% surcharge but doesn't want to pass all of it off billed at the end of the month (EOM). With RewardPay Choice, we allow the merchant to absorb whatever % they do not want to pass along to a credit customer.
Business owner signs up for RewardPay Choice with 4% charge
Business owner passes 2% to credit customers and absorbs the other 2%
Business owner is still billed for all debit transactions and fees
BONUS: Get a FREE terminal when you sign up for RewardPay!
Signing with RewardPay will qualify you for a free terminal if you're a card present business or a free virtual terminal for online or mobile based businesses. No contracts, no termination fees. All that is needed is two months of past statements.
Whether you are a local business reopening, or an online business looking for a convenient, compliant digital solution, RewardPay will help you reopen with confidence knowing you will be saving on your processing fees. Reach out to one of our trained payment professionals today!
Get started with Payroc
No matter where you are in your payments journey - whether a merchant, agent, partner developer, we're here to help.